BSc (Hons), Registered Psychotherapist (Qualifying), Student Therapist
My office address is:
21 Yarmouth St
Guelph, ON N1H 4G2
I see people in person at our Guelph office as well as seeing people online throughout Ontario. As a therapist-in-training, I am glad to be able to offer afforable therapy, at rates of $125/hour + HST.
Get your free 20-minute consultation to see if you think we are the right people to help you.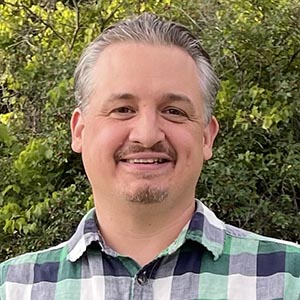 Bryan Muscat
BSc (Hons), Registered Psychotherapist (Qualifying), Student TherapistAbout BryanBook Bryan online today
Do you relate to your therapist, and how easily can your therapist relate to you?  I've never been sure that "misery loves company" (as the saying goes), but some pain is easier to understand and to navigate with company.
For any number of reasons, you may find a middle-aged man to be a relatable and comforting therapist, especially if you've found any of these to be a challenge in your life:
Growing up in a blended family

Being a parent in a blended family

"Culture shock" from within the blended family

Enduring divorce as a child

Enduring divorce as an adult

Grief, due to a sudden loss

Difficulty regulating emotions

Attachment disorders

Career changes – sudden and dramatic
Children diagnosed with autism
Those are tough issues.  I know because I've experienced all of them, too, at one time or another.
If you're considering therapy, there's a fine line to walk: you probably don't want a therapist who's never experienced pain that resembles yours, but you also don't want a therapist who is still in the thick of it and has no capacity to discuss and help with what pains you.
Therapy is a little easier if you don't need to spend too much time explaining your concerns to your therapist.  You may want to describe your unique situation to your therapist, but you don't necessarily want to go through all the basics.  The challenges we've had can be hard to explain to others, or painful to relive.  You may not want to go through 5 sessions of therapy before I "get it" and we can finally start discussing practical ways to heal the sore spots.  We can get to the action items a little quicker (if that's your preference).
I don't have a silver-bullet solution to much, and neither does anyone else.  But you may be looking for someone who will "get it" sooner rather than later.  You may also be looking for a therapist who knows your obstacles well enough to know what parts you can't control at all, what parts you can navigate around, and what parts you can change – and how.  If so, feel free to contact me.  I'm in Guelph, and am available for in-person and online therapy.  We'll schedule a brief (and free) call to discuss what's on your mind and what you'd like to do next.
Compassionate mental health support for people that are feeling overwhelmed.