Counselling for Adults with Aging Parents
Balance all of your obligations, and balance those with your needs
Do you struggle with what your parents need and how you can help?
Feeling burned out and fatigued in trying to maintain a balance?
Does time for self-care seem like a pipe dream?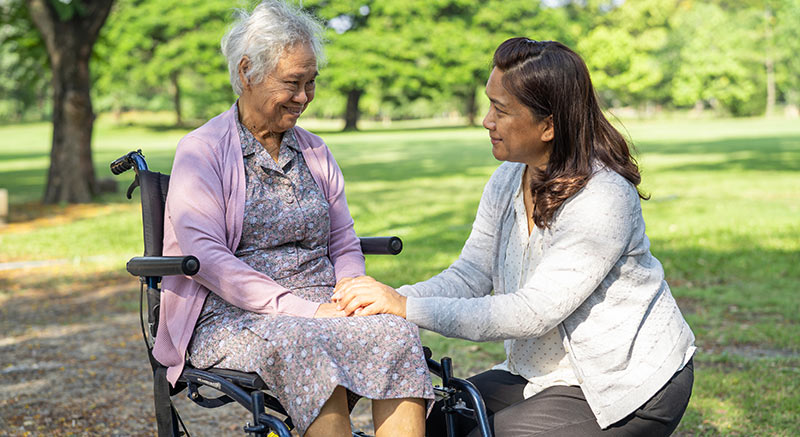 Managing your emotions, whether or not you're the caregiver
Even if you're not directly responsible for your aging parent's care at this time, their loss of independence can bring a rush of difficult but understandable emotions.
It's common to feel frustration – even resentment – at the demands a parent's life changes may place on your own life. It's also normal to feel anguish at the way your relationship is changing, or for your parent's loss of capacity, or both. Facing change is always hard. You and/or your patient may feel fear, worry, and frustration, and that's common and understandable. Nobody may like the idea of a parent's needing help – perhaps the parents in particular.
You may even feel extreme guilt as well, even when you shouldn't. Love for one's parents can conflict with many emotions and even with a rational view of yourself and your relationship. Those are normal emotions to feel in a difficult situation.
Managing burnout and fatigue
If you are serving as your parent's primary care provider, burnout and fatigue are likely to dog you. Tending to the needs of a fellow adult is exhausting.
The work never seems to end. Parents who need intensive, intimate care might require you to take on tasks that are difficult, humbling, or embarrassing for both of you. Counselling can help you reevaluate your experiences and come to understand them as noble, purposeful, and doable.
Making tough decisions
Even if you don't live with your parents full-time you may be called upon to make tough decisions about their care and well-being. Will they move to assisted living? Will you hire full-time in-home caregivers?
Those decisions come with both emotional and often financial strain, as well as fear: Fear that you're not doing the right thing, fear that you're not making the right choice, or fear that your parents won't be as cared for as you'd want them to be cared for. Counselling can provide you a sounding board that will allow you to seek clarity as you might make some hard choices.
Possible additional challenge: a narcissistic parent
Parents who have narcissistic personality disorder (NPD) – or who show signs of it – are difficult enough to deal with even under the best of circumstances. Comparisons, put-downs, displays of ego, acts of spite, and the fostering of guilt may be among the pains you felt as a child. Those injuries may or may not linger in your relationship to this day, but a parent's aging and deterioration can open up those wounds again and lead to new wounds, especially if you're back in close proximity to each other. Once again you may feel stuck: you need to balance feelings of obligation to your parents, your need to maintain your wellness and dignity, your ability to meet your other obligations, the desire to work out old issues if possible, and the need to meet newer challenges. You may not be sure how close to your parents is too close or not close enough. Our therapists understand well the many variables and often-conflicting emotions, and can help you find the balance that works for you (and your parents) best.
Get support today
You are not alone. We've helped others take on parent-care challenges as their healthiest selves. Navigating transitions can be difficult, but it doesn't need to feel unbearable. You can contact our Guelph counsellors today for a complimentary discussion.
Free no-obligation 20-minute consultation
...with the option to stay for a full session right after if you so choose.
We offer online, in-person and telephone coaching sessions and look forward to working together. You can also book your normal sessions online by clicking the button below.