MSW, RSW, Psychotherapist in Guelph & Online
My office address is:
21 Yarmouth St
Guelph, ON N1H 4G2
I am located in Guelph, and work with clients throughout Ontario (and beyond) in an online therapy (phone or video) setting.
Get your free 20-minute consultation to see if you think we are the right people to help you.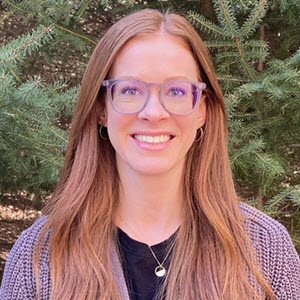 Nicole Konc
MSW, RSW, Psychotherapist
About Nicole
Not currently accepting new clients. Returning clients please enquire about availability. New clients, please connect with one of our other skilled team members with immediate availability or or you can contact us to be added to a waiting list for Nicole.
Some of the concerns I often help clients on include: depression, anxiety, OCD, psychosis, trauma (of many kinds), self-endangerment, low self-esteem, relationships, grief and loss, LGBTQ2S+, sexuality and gender identity, and more. Wherever you might be in the process of working through those issues (or others) is where we will pick up.
For 7+ years I have worked as a registered Social Worker in the field of mental health. I have been fortunate enough to work with clients in various settings, including community mental health and private practice. It is a privilege to learn about and share in the journeys of others. I am passionate about providing hope and helping clients to reexamine limiting beliefs in a way that helps them achieve their goals.
I have extensive experience in supporting individuals with a wide range of mental wellness concerns using a client-centered and recovery-oriented approach, both in-person in Guelph and virtually (online). I use the Gottman Method, attachment theory, and emotion-focused therapy as my guiding framework for couples counselling – but you probably will not notice, because at root our sessions are a conversation between me and you. I try to keep it light and easy to discuss what is on your mind, while staying focused on your goals.
It's probably your hope, as well as mine, that you won't need therapy "forever."  There is an off-ramp. If my past clients are any indication, on the day you decide our work is done you'll most likely feel more in-control, more confident, and feel better able to navigate stressors big and small.  You may also find more self-awareness, more ease in regulating emotions, and healthier coping mechanisms.  Most of all, you are likely to feel less of the pain that brought you to therapy in the first place, such as anxiety or depression.
I look forward to getting to know you in a comfortable and non-judgmental space that allows us to work together on your challenges and help you find a sense of inner calm.
Education
Master of Social Work
Bachelor of Applied Science
Professional Activities and Memberships
Registered with the Ontario Association of Social Workers
License
Registered Social Worker with the Ontario College of Social Workers and Social Services Workers
Additional Training
Cognitive Behaviour Therapy
Developmental Trauma & Resilience Training
Coaching in Dialectical Behaviour Therapy
Compassionate mental health support for people that are feeling overwhelmed.