I am located in Guelph, and work with clients throughout Ontario (and beyond) in an online therapy (phone or video) setting.
Get your free 20-minute consultation to see if you think we are the right people to help you.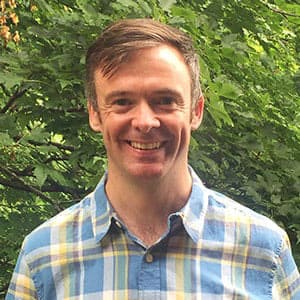 Shane Smyth
MA, RP, PsychotherapistAbout Shane
Not currently accepting new clients. Returning clients please enquire about availability. New clients, please connect with one of our other skilled team members with immediate availability or you can contact us to be added to a waiting list for Shane.
I am a registered psychotherapist specializing in individual, couples and family therapy and the owner/clinical director of Spacious Mind Counselling. I am trained and experienced in the delivery of online therapy for the past ten years.
I believe you are the expert in your life and even though you may not know it, you have all the answers within you. Unfortunately sometimes life can make accessing these answers difficult. Trauma, mental health issues such as anxiety and depression, work, family, and relationship pressures can all impact our ability to connect to peace and happiness.
I have found through personal experience that talking to a trained professional in psychotherapy who is kind, caring, non judgmental and emotionally attuned can support the process of being able to listen to ourselves and work towards living a life that is free of suffering. I am passionate about providing quality therapy to people I work with.
I was born in Ireland and qualified initially as a mechanical engineer. I became interested in psychotherapy through personal growth and engagement in my own journey. It was following a significant crisis due to overworking, anxiety and low self esteem that I decided to engage in personal therapy 15 years ago. I benefited so much from therapy that I decided to study it formally. This led me to gaining a masters in community work with an honours bachelors degree in psychotherapy and becoming a registered psychotherapist.
I moved to Canada in 2014 and have been lucky enough to study with leaders in the field of psychotherapy. I have found therapy helpful in my own life to manage symptoms of depression, compulsive behaviours and anxiety which has led to increased happiness, less reactive habits and improved personal relationships. I am grateful to be able to teach these skills to the people I work with.
I have worked in the areas of mental health and family services for over ten years. I have trained internationally in several areas of humanistic and integrative psychotherapy including dialectic behavior therapy, cognitive behavior therapy, narrative therapy, emotionally focused therapy, motivational interviewing, family systems therapy, couples therapy and gestalt therapy. The type of therapy that was a significant game changer for me however was MiCBT. Although it required more personal work, it reaped greater peace and calmness of mind than other modalities and is now part of my daily routine and greatly informs my work.
I also offer consultations in collaboration with a team of Psychiatrists who may provide a diagnosis, suggestions for medical support and/or make therapeutic recommendations. If you would like to learn more about this click here or contact us.
Education
Master of Arts in Youth and Community Work
Bachelor of Arts in Psychotherapy
License, Certifications & Awards
Registered Psychotherapist with the College of Registered Psychotherapists of Ontario(CRPO).
Additional Training
Dialectic Behaviour Therapy (DBT)
Emotion Focused Therapy for individuals (EFT)
Emotionally Focused Therapy for couples
Emotion Focused Trauma Therapy
Motivational Interviewing
Narrative Therapy
Sex therapy intensive University of Guelph
MiCBT foundation and applied program.
Professional Activities and Memberships
Ontario Association of Consultants
CounsellorsPsychometrists and Psychotherapists (OACCPP)
Compassionate mental health support for people that are feeling overwhelmed.